Hello, how are you? Us staff here at DASM HQ are happy to announce our new project "IBT Survival Island". (Interactive Battle Tournament Survival Island.) We are still currently in early stages but compared to DASM Spell Quest this project is massive and may or will be full of hidden surprises. Some major companies around Australia have been asked for permission to add some of their products in the survival game and have already expressed some interest.
What is IBT Survival Island?
IBT Survival Island is a new project involving survival on an isolated island near the Australian Coast. You don't know how you got there but you need to find water, food and build shelter. Once this is done you will have to wait for someone to rescue you or find your own way off the island but either way you must survive all the elements that Australia has to offer.
How is this a survival game and why is it unique to others?
In IBT Survival Island there are no zombies, no monsters and nobody to help you. The food you find is 100% Australian bush tucker but sometimes other items can be found or washed ashore. The game uses hunger, thirst, mental health, biohazards, stamina, your current health status and yes, trips to the toilet. There is day and night cycles plus hot and cold climates.
Is this game Educational?
Yes, it involves collecting food, making fresh water and understanding the Australian terrain. There is a lot of "reading" and each item is explained in detail. For example the image below explains what item you have picked up in your inventory and some details about it. (Note* The inventory system and items/descriptions will or may change as it develops.)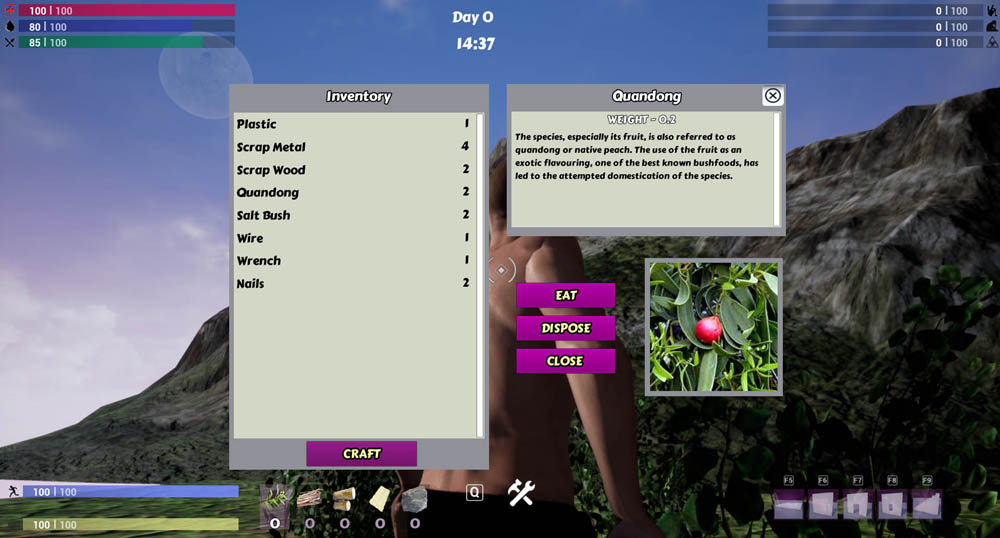 Once you have collected a variety of items you can craft tools and other various things to help you to survive. Some items cannot be crafted until they are unlocked. Unlocking these items are earned over time as you gain experience.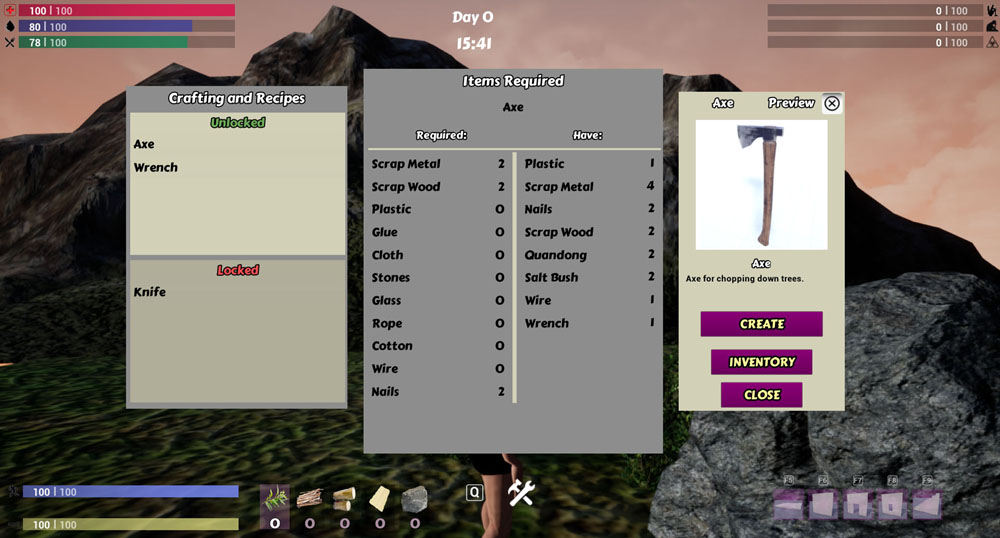 In the image below is a small selection of items you can create or found while exploring. Staying in the one place and not exploring will definitely be certain doom for the player.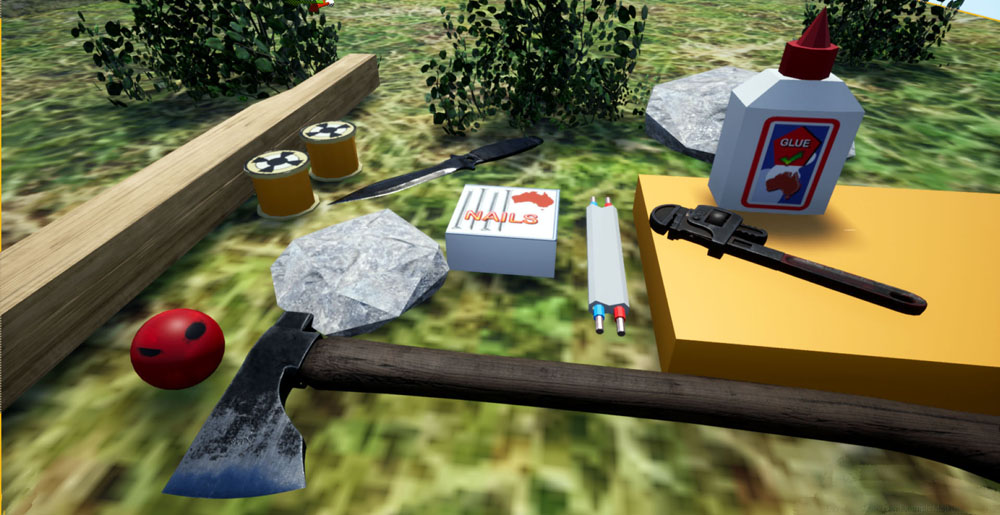 Building your shelter is important. Currently we have a basic building system that allows you to collect objects like sticks, rocks, branches or even craft planks of wood to create solid shelters. Below is an example of what you can current craft with the right ingredients.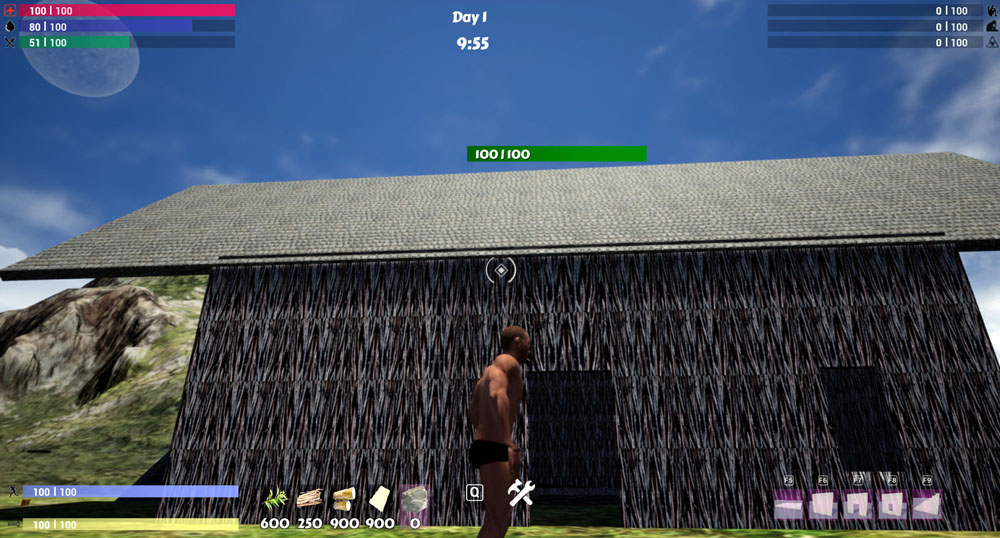 Is the game violent?
Like most of our software we try to not have anything that is violent or promote violence. Unfortunately with IBT Survival Island if you don't drink or eat there are consequences. But violence that involves guns or shooting other people or beings is not in this game nor are we even interested in adding this. Hunting animals with a spear or using traps to find food is the only violence in this software. World of DASM software will never agree with creating products that promote unnecessary violence.
Will I need an account to "trial" this software?
No. We will actually allow people to download early versions of this software for free. Depending on the traffic we may even ask a third party to host for us. But for now we plan on having a direct link from this website. At the moment no date has been set to begin trials since we are still at an early stage.
Will I need a STEAM accounts?
Naturally, when the time comes sales will be through STEAM if approved. STEAM is the best way of selling a product since it never closes and is a reliable third party. The only downfall with STEAM is you have to have an account with them but don't worry its free. The positives are if there is an update it will automatically update your game and give you any changes that are made. If you have a STEAM account and a Steemit account you may get extra options with the software.
What is Steemit, do I need an account?
Steemit is a blockchain-based blogging and social media website, which rewards its users with the "cryptocurrency". Currently we are attempting to use our software in conjunction with Steemit accounts. For now we cannot fully validate that this will be possible but a lot of time and effort is being researched into this "possibility" right now. Don't panic if you don't have a Steemit account because it will be like all our other projects where STEAM will be your primary and main account.
Any Questions?
If you have any further questions please contact us at: contact@worldfdasm.com
Are you an Australian company?
If your a company and are interested in adding your product in the IBT Survival Island software please contact us at: info@worldofdasm.com This would be free of charge and a great way of advertising your product. If your not sure just tell us about your product and we will quickly research it. Once your product is created in 3D as a static mesh we will send it to you so you will see what it looks like and have your approval before we add it to the software.
(Note* Products should be 100% Australian. Items like; Glass jars, plastic containers, glass, glue, wood, metal, cloth etc are our primary interest. Anything that can hold water or be used for survival would be acceptable also.)
No products added in this software will face devalue, be used as malice nor belittlement.